Reset Admin Password Windows 7
Now that the small window with the progress bar is gone, jot down the drive letter shown under Location. You can think of it as more of a Windows password tool. Kon-Boot works differently than the two password reset tools above, so if you have problems using them, give Kon-Boot a try. Her knowledge and passion always drive her to discover everything about technology. But the following alternative solutions would be helpful without using password disk.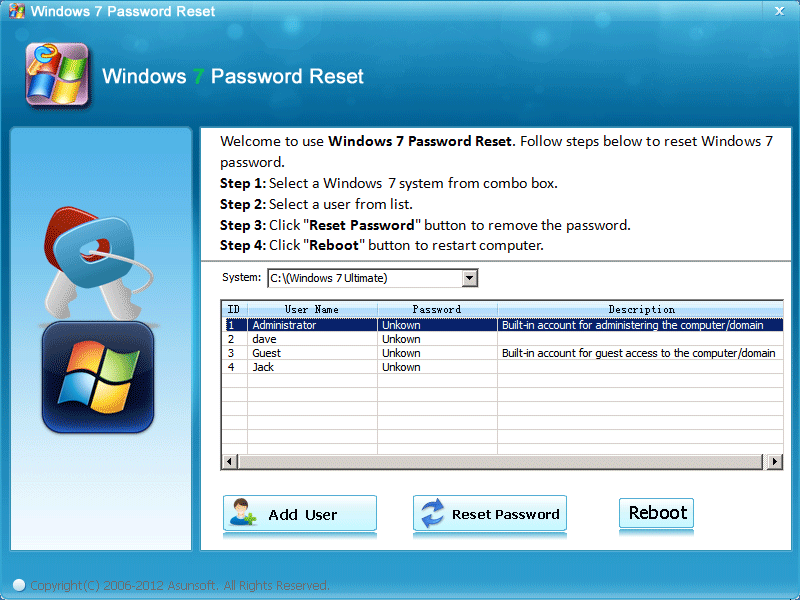 You can use Trinity Rescue Kit to clear a password entirely, making it blank, or to set a custom one. Help answer questions Learn more. If you see that, or an Install Windows screen, or a System Recovery Options screen, you're in good shape and can continue on to the next step.
Click on the media names you current have. Tips The Administrator password is blank by default. No, your password is not reset yet, but we're about to do just that. It works similar to ntpasswd.
However, I would prefer a tool where the vendor offers support in case you run into problems. This time, however, instead of seeing Command Prompt, you should see the Ease of Access screen. Undo the couple of things that made this password reset trick work.
Option 1 Windows 7 Password Reset in Safe Mode via Administrator
Of them all, one of the most successful strategies is the one we're about to walk you through here. Please let us know status. Thank You for the time you kindly took to put together this information. Click Yes when a confirmation message pops up. Feel free to set one when successfully enter into the system.
When you forgot standard user password, you can log in with other admin accounts to reset its password. You can see the main windows below. In this article I only talk about the Windows client editions, but the methods also work for the corresponding server versions. By continuing to browse this site, you agree to this use.
Wait while your computer restarts. Also read my article about the offline Registry editor if you don't know how to edit the Registry in offline mode.
Click the Repair your computer link. What you just did was copy the utilman. That's exactly what you wanted then, but right now you should be booting from your hard drive, as you normally do. If even a system repair disc isn't an option, you may still be able to follow this tutorial, for the most part, using any bootable recovery media that gives you write-level access to the hard drive. Hello, I am not having a problem with log-on passwords for any of the users on our home computer.
Finally, we're at the exciting part! This might sound like a joke, but in some cases this is the best method. Nothing worked and I did not have a password recovery disk.
Unfortunately you do need either the administrator password or to already be logged in to the account. Include your email address to get a message when this question is answered.
Just wanted to drop a line to say this was incredibly helpful. Vicky is a professional Windows technology author with many experience, focusing on computer technology. Don't worry if nothing is listed under Operating System.
Check it out if you think it might be useful to you. Even though you forget to create it, now iSunshare Windows Password Genius also could burn one. And finally, click the reset button to unlock the password. This is a problem from a forum and also a common issue we have to deal with usually.
Thank you for any help you can give us. With Ophcrack, you don't need any access to Windows to be able to recover your lost passwords.
The problem with this option is that you have to create the reset disk before the password is lost. Stored credentials in the Windows Vault and Internet Explorer will also no longer be available. If that's what you're using, just move on to the next step.
Step-by-Step Guide to Resetting a Windows 7 Password
In other words, it's a proactive step. Download and install the program Windows or Mac into another working computer Windows or Mac to create abootable Windows password reset disk. Download Now Windows Version. Locate your password reset disc. But before you spend money, I recommend trying the other options I described in this article.
If you tried that password tool and it didn't work, Trinity Rescue Kit probably won't either. Its main advantage is that it is very quick. Make sure you use the right procedure for your situation. If so, were you then taken to command prompt? Please read my review of the Trinity Rescue Kit for more information.
Technically, they do the same as the free tools. Select Safe Mode in the coming screen, and then Press Enter. The wikiHow Tech Team also followed the article's instructions and validated that they work. Once this screen disappears, you can move on to the next step.
John the Ripper is a popular free password recovery tool that can be used to find Windows account passwords. The net user command is a really easy command to use. It includes many different tools, one of which is for password recovery. By default, built-in administrator is created and set disabled, but has no password protection in Windows computer.
As to my own experience, the old password will pop up in your mind right after you finish the installation and go to configure your new administrator password. Also note that this tool comes without any warranty. Just type new one and confirm it.
Many commercial tools are available that allow you to reset the Windows administrator password. After you enable the built-in Administrator, you can log on with this account without requiring a password and then reset the Windows password of any user account. You only have to make a password reset disk once. Apparently, I set up an administrative password that is required when downloading updates. After running the program, you can log in to your Windows account without entering a password at all, and then, of course, filters for photoshop cc make a new password if that's what you want.